CNP LABORATORY Hyaluronic Derma Tension Serum 30ml
The skin-firming hyaluronic serum "Derma Tension Serum" provides moisturizing, firming skincare with a formula consisting of highly concentrated Hyaluronic Acid and Collagen as well as functional ingredients Adenosine and Niacinamide.
A formulation made up of 6 types of concentrated hyaluronic acid in various molecular sizes and a major wrinkle improvement, whitening ingredients replenish a healthy glow and provide elasticity and moisturizing energy charge to the skin.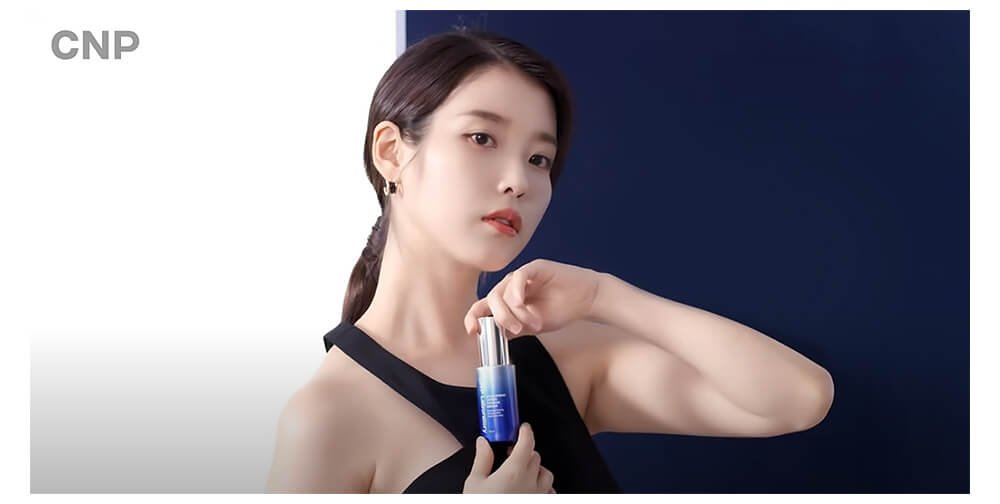 Plump up your skin with this smooth-textured hyaluronic serum that contains 2 types of collagen that provides a moisturizing elastic skin-boosting effect.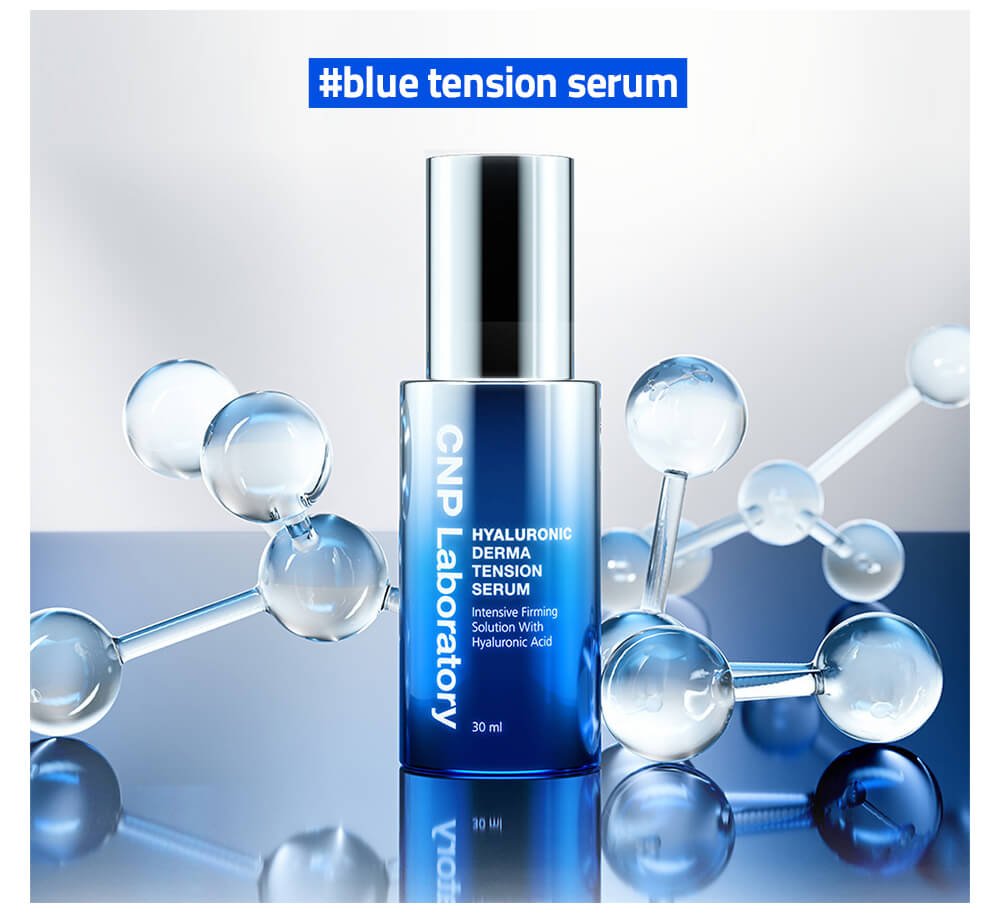 Notice the difference in elasticity level after using it for a while, and even if you stopped using it, you will still feel that your skin elasticity has been improved. Fixes up to 6 elasticity problems.
Forget your drying and elasticity concerns with CNP Hyaluronic Derma Tention Serum after 2 weeks of use!
Main Features
Strong elasticity and moisturizing charging effect: CNP special formula contains 6 types of Hyaluronic acids with different molecular sizes, more than (10.000pm) and wrinkles improving main ingredient Adenosine, working together on filling the dry skin with deep moisturization, healthy gloss, and elastic energy.
Vibrant elasticity boosting effect: Its formulation containing two types of collagen ingredients that provide smooth elasticity presents a dense and smooth elastic boosting effect on your skin, making it lively.
A serum that helps relieve skin elasticity concerns: It is a formulation rich in ingredients that help moisturize and elasticity, and is specially manufactured to help improve 6 concerns about elasticity and 4 concerns about moisturizing.
A functional cosmetic for whitening and wrinkle improvement: It is a double functional cosmetic containing Adenosine and Niacinamide that helps brighten and firm your skin.
Formulation
A translucent liquid type formulation that is neither too light nor too heavy, so that it flows slowly when you drop a drop of this serum on your skin.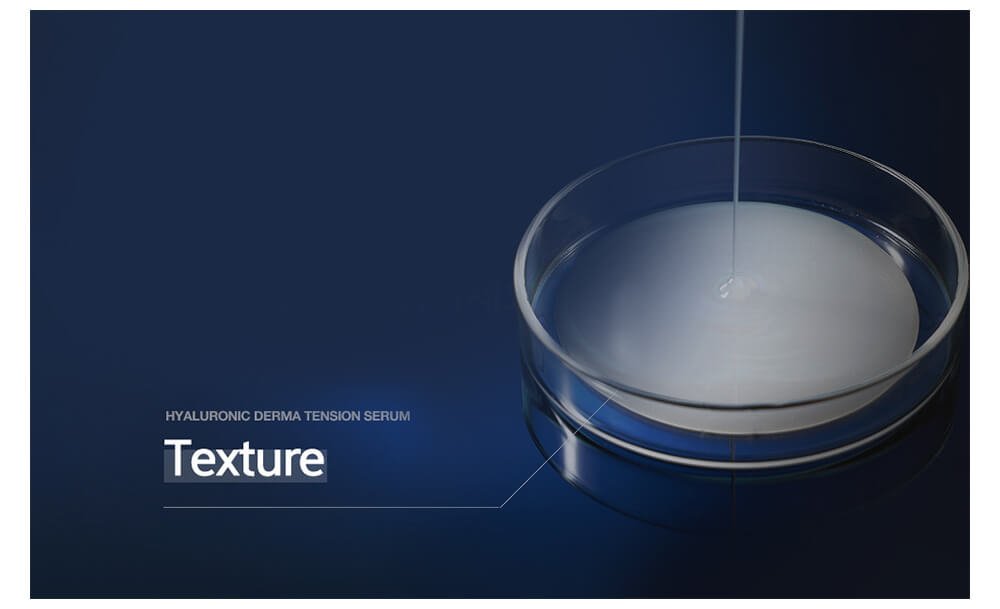 Skin Test
Skin elasticity, Torsional elasticity, Skin density, Moisture loss, and facial lifting effects test
Test institute: KC Skin Clinical Research Center
Test period: 10\08 ~ 23\09\2020
Test subject: 31 women and men
Test method:  the test is measured twice, one after 2 weeks and the other after 4 weeks. Also, there's a difference in individual use twice a day.
How to use
Take an appropriate amount in the step of using the essence.
Apply it evenly to the entire face
Hyaluronic serum provides your skin with various elasticity boosting effects!
Ingredients
Water, Dipropylene Glycol, Aminopropanediol, PEG/PPG/Polybutylene Glycol-8/5/3 Glycerin, Glycerin, Dimethicone, Niacinamide, 1,2-Hexanediol, Phenyl Trimethicone, Hyaluronic Acid
Aloe Barbadensis Leaf Extract (7,000.25ppm), Sodium Hyaluronate (3,076ppm), Hydrolyzed Collagen, Succinoyl Atelocollagen, Glycereth-25 PCA Isostearate, Polyacrylate Crosspolymer-6, Hydroxyethyl Acrylate/Sodium Acryloyldimethyl Taurate Copolymer, Squalane, Polysilicone-11, Tromethamine, Hydroxyethylcellulose, Ammonium Acryloyldimethyltaurate/VP Copolymer,
Allantoin, Rhus Semialata Extract, Xanthan Gum, Butylene Glycol, Adenosine, Lactobacillus Ferment, Curcuma Longa (Turmeric) Root Extract, Eclipta Prostrata Extract, Polysorbate 60, Sodium Hyaluronate Crosspolymer(250ppm), Hydrolyzed Glycosaminoglycans, Sorbitan Isostearate, t-Butyl Alcohol, Benzyl Glycol, Pentylene Glycol, Hydrolyzed Hyaluronic Acid(12.5ppm), Sodium Acetylated Hyaluronate(10ppm), Hydroxypropyltrimonium Hyaluronate (10ppm), Ethylhexylglycerin, Potassium Phosphate, Disodium Phosphate, Phloretin, Raspberry Ketone, Trisodium EDTA, Fragrance