A skin caring finish powder that locks makeup perfectly in place as it settles comfortably on your skin.
---
Perfecting Tone Correction
The combination of various fine powders makes your skin tone look natural and vibrant, creating smooth skin without settling into wrinkles or pores.
---
---
Perfecting Wearing
The skin-friendly moisturizing coated powder and plant-derived moisturizing ingredients lock in makeup without dryness.
---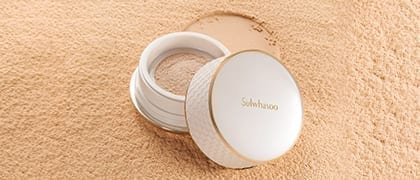 ---
Perfecting Comfort
A breathable makeup technology inspired by the traditional Hanji paper combined with Sulwhasoo's unique blend of skincare ingredients that help the makeup settle comfortably on your skin and keep it looking healthy and beautiful.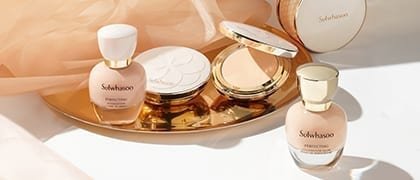 ---

---
How to Use
After using makeup base or foundation, take an appropriate amount with a puff and apply lightly over the entire face.
---
How to change with a refill
After opening the cover of the powder and removing the existing product case, replace it with a new one.
---
Ingredients
[No. 01 Transparent] TALC, MICA, DIMETHICONE/VINYL DIMETHICONE CROSSPOLYMER, ETHYLENE/ACRYLIC ACID COPOLYMER, BARIUM SULFATE, TITANIUM DIOXIDE (CI 77891), SQUALANE, PCA DIMETHICONE, HYDROGENATED LECITHIN, ETHYLHEXYLGLYCERIN, FRAGRANCE / PARFUM, GLYCERYL CAPRYLATE, DIMETHICONOL, LINALOOL, WATER / AQUA / EAU, LIMONENE, MAGNESIUM MYRISTATE, GERANIOL, BENZYL BENZOATE, TIN OXIDE, IRON OXIDES (CI 77491), POLYMETHYLSILSESQUIOXANE, BUTYLENE GLYCOL, CITRONELLOL, GLYCERIN, CITRAL, METHOXY PEG-114/POLYEPSILON CAPROLACTONE, PROPANEDIOL, TRIETHOXYCAPRYLYLSILANE, TOCOPHEROL, PRUNUS MUME FRUIT EXTRACT, SESAMUM INDICUM (SESAME) SEED EXTRACT, PINUS KORAIENSIS SEED EXTRACT, CHAENOMELES SINENSIS FRUIT EXTRACT, ROSA MULTIFLORA FRUIT EXTRACT, PHENOXYETHANOL, PRUNUS MUME FLOWER EXTRACT, BETA-GLUCAN, HONEY / MEL / MIEL, REHMANNIA GLUTINOSA ROOT EXTRACT, PAEONIA LACTIFLORA ROOT EXTRACT, LILIUM CANDIDUM BULB EXTRACT, POLYGONATUM ODORATUM RHIZOME EXTRACT, NELUMBO NUCIFERA FLOWER EXTRACT
[No. 21N Beige] TALC, MICA, DIMETHICONE/VINYL DIMETHICONE CROSSPOLYMER, BARIUM SULFATE, TITANIUM DIOXIDE (CI 77891), SQUALANE, PCA DIMETHICONE, ETHYLENE/ACRYLIC ACID COPOLYMER, HYDROGENATED LECITHIN, ETHYLHEXYLGLYCERIN, FRAGRANCE / PARFUM, IRON OXIDES (CI 77492), GLYCERYL CAPRYLATE, DIMETHICONOL, IRON OXIDES (CI 77491), LINALOOL, IRON OXIDES (CI 77499), WATER / AQUA / EAU, LIMONENE, MAGNESIUM MYRISTATE, POLYMETHYLSILSESQUIOXANE, GERANIOL, BENZYL BENZOATE, BUTYLENE GLYCOL, TIN OXIDE, CITRONELLOL, GLYCERIN, CITRAL, METHOXY PEG-114/POLYEPSILON CAPROLACTONE, PROPANEDIOL, TOCOPHEROL, PRUNUS MUME FRUIT EXTRACT, SESAMUM INDICUM (SESAME) SEED EXTRACT, PINUS KORAIENSIS SEED EXTRACT, CHAENOMELES SINENSIS FRUIT EXTRACT, ROSA MULTIFLORA FRUIT EXTRACT, PHENOXYETHANOL, PRUNUS MUME FLOWER EXTRACT, BETA-GLUCAN, HONEY / MEL / MIEL, REHMANNIA GLUTINOSA ROOT EXTRACT, PAEONIA LACTIFLORA ROOT EXTRACT, LILIUM CANDIDUM BULB EXTRACT, POLYGONATUM ODORATUM RHIZOME EXTRACT, NELUMBO NUCIFERA FLOWER EXTRACT
[No. 23N Sand] TALC, MICA, DIMETHICONE/VINYL DIMETHICONE CROSSPOLYMER, BARIUM SULFATE, TITANIUM DIOXIDE (CI 77891), SQUALANE, PCA DIMETHICONE, ETHYLENE/ACRYLIC ACID COPOLYMER, HYDROGENATED LECITHIN, ETHYLHEXYLGLYCERIN, FRAGRANCE / PARFUM, IRON OXIDES (CI 77492), GLYCERYL CAPRYLATE, IRON OXIDES (CI 77491), DIMETHICONOL, LINALOOL, IRON OXIDES (CI 77499), WATER / AQUA / EAU, LIMONENE, MAGNESIUM MYRISTATE, POLYMETHYLSILSESQUIOXANE, GERANIOL, BENZYL BENZOATE, TIN OXIDE, BUTYLENE GLYCOL, CITRONELLOL, GLYCERIN, CITRAL, METHOXY PEG-114/POLYEPSILON CAPROLACTONE, PROPANEDIOL, TOCOPHEROL, PRUNUS MUME FRUIT EXTRACT, SESAMUM INDICUM (SESAME) SEED EXTRACT, PINUS KORAIENSIS SEED EXTRACT, CHAENOMELES SINENSIS FRUIT EXTRACT, ROSA MULTIFLORA FRUIT EXTRACT, PHENOXYETHANOL, PRUNUS MUME FLOWER EXTRACT, BETA-GLUCAN, HONEY / MEL / MIEL, REHMANNIA GLUTINOSA ROOT EXTRACT, PAEONIA LACTIFLORA ROOT EXTRACT, LILIUM CANDIDUM BULB EXTRACT, POLYGONATUM ODORATUM RHIZOME EXTRACT, NELUMBO NUCIFERA FLOWER EXTRACT
---