SAY SKIN AURORA-me
Home beauty device for your elastic skin
You can get magical results if you invest only 10 minutes a day.
Many women have been using skin care cosmetics, but it is never easy to make sure the ingredients of the cosmetics are well absorbed into their skin.
How can you make sure that the active ingredients of the cosmetics you are using are absorbed well into your skin?
We introduce to you today an innovative beauty device that can solve these problems.
Aurora me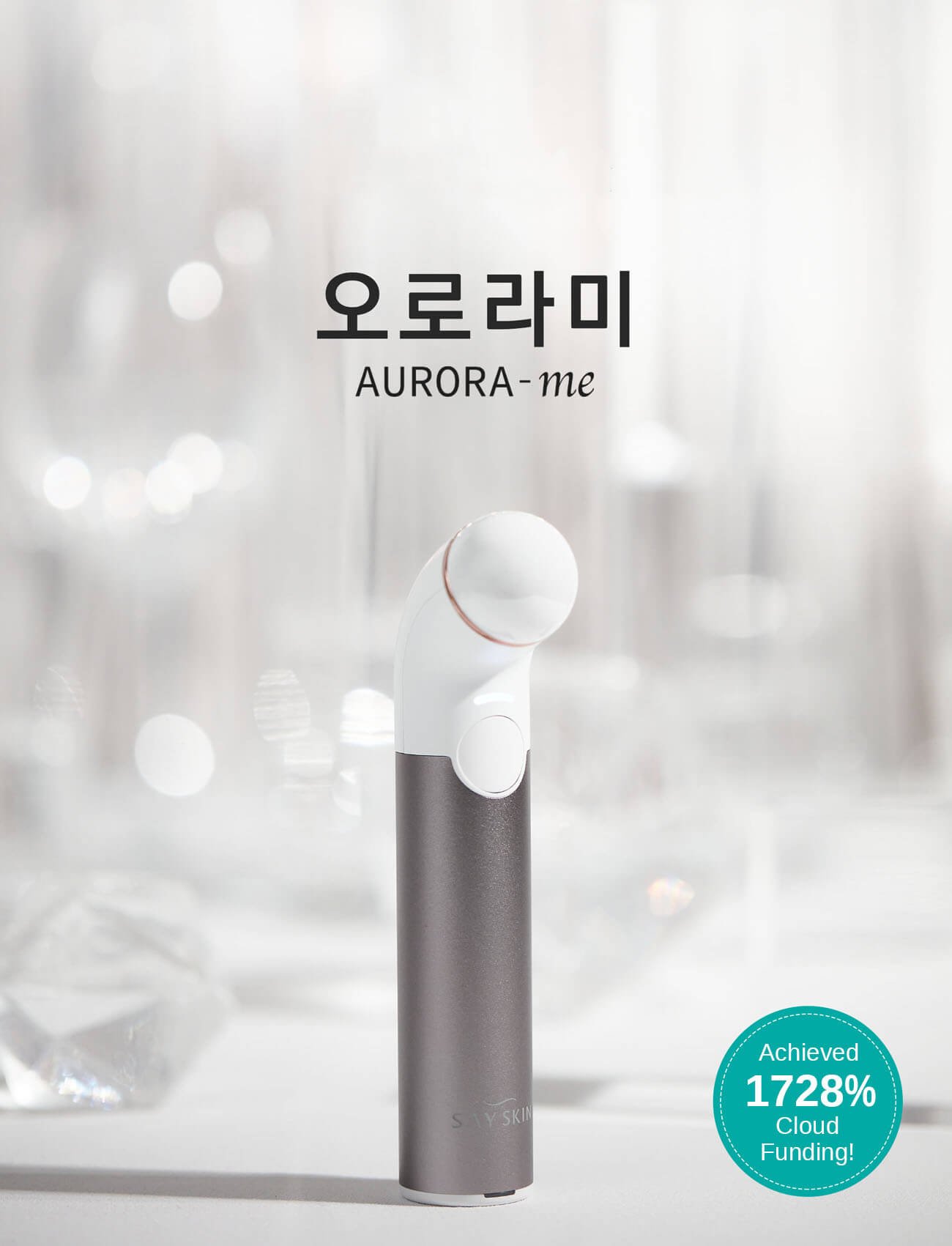 This is a innovative beauty device that uses patented technology that simultaneously generates plasma and microcurrent.
This helps skin care cosmetic ingredients absorb up to the dermis.
What principle does Aurora-me help to improve skin?
1. Principle of improving wrinkles and skin texture
Plasma and microcurrent penetrate to the dermis layer in the skin at the same time, stimulating fibrous cells to restore stretched collagen and broken elastin and create new collagen and elastin to help improve wrinkles and skin texture.
Tip
Fibroblasts: collagen and elastin-producing cells
Role of dermal layer: This is a skin tissue responsible for skin health that provides nutrition to the epidermis and plays important roles such as skin regeneration, moisture storage, skin elasticity, and waste removal.
2. principle of skin tone improvement
Plasma keeps the skin turnover cycle at 28 days.
Skin peeling, which removes dead skin cells and various contaminants, occurs naturally by plasma.
In addition, some of the substances generated by plasma stimulate and activate epidermal cells, increasing the proliferation of epidermal cells, helping to make your skin pure and clear.
3. Principle of soothing skin trouble

Hydroxyl(OH Radical), an anionic natural substance produced during plasma generation, has a sterilization speed of 180 times faster than the sun's ultraviolet rays, making it the most powerful sterilizing substance on Earth.
It helps soothe your skin problems such as bacterial pimples on your face and others due to the Hydroxyl.
4. Principle of promoting absorption of cosmetic ingredients
The following are photos taken within 10 seconds of dropping a drop of purified water on the skin that used Aurora-me and the skin that not used it.
Can you see the condition of the skin on the left, which quickly absorbed purified water?
Are you worried about the unique smell when this device causes plasma?
We have proven safety related to ozone concentrations!
You should use the Aurora-me with confidence.
When the Aurora-me generates plasma, it has a unique smell, which is a natural phenomenon due to the friction of ions such as ozone from the plasma generation process!
Also, the Aurora-me has completed the ozone test of the Korea Institute of Industrial Technology under the Ministry of Trade, Industry and Energy, and the ozone test result shows that the average value is 0.04 ppm, which is lower than the standard 0.05 ppm, so you can use this device with confidence.
Aurora-me maximizes your skin elasticity with the following four effects!
Improve wrinkles and skin texture
Improve skin tone
Soothing and trouble care
Promotion of absorption of cosmetic ingredients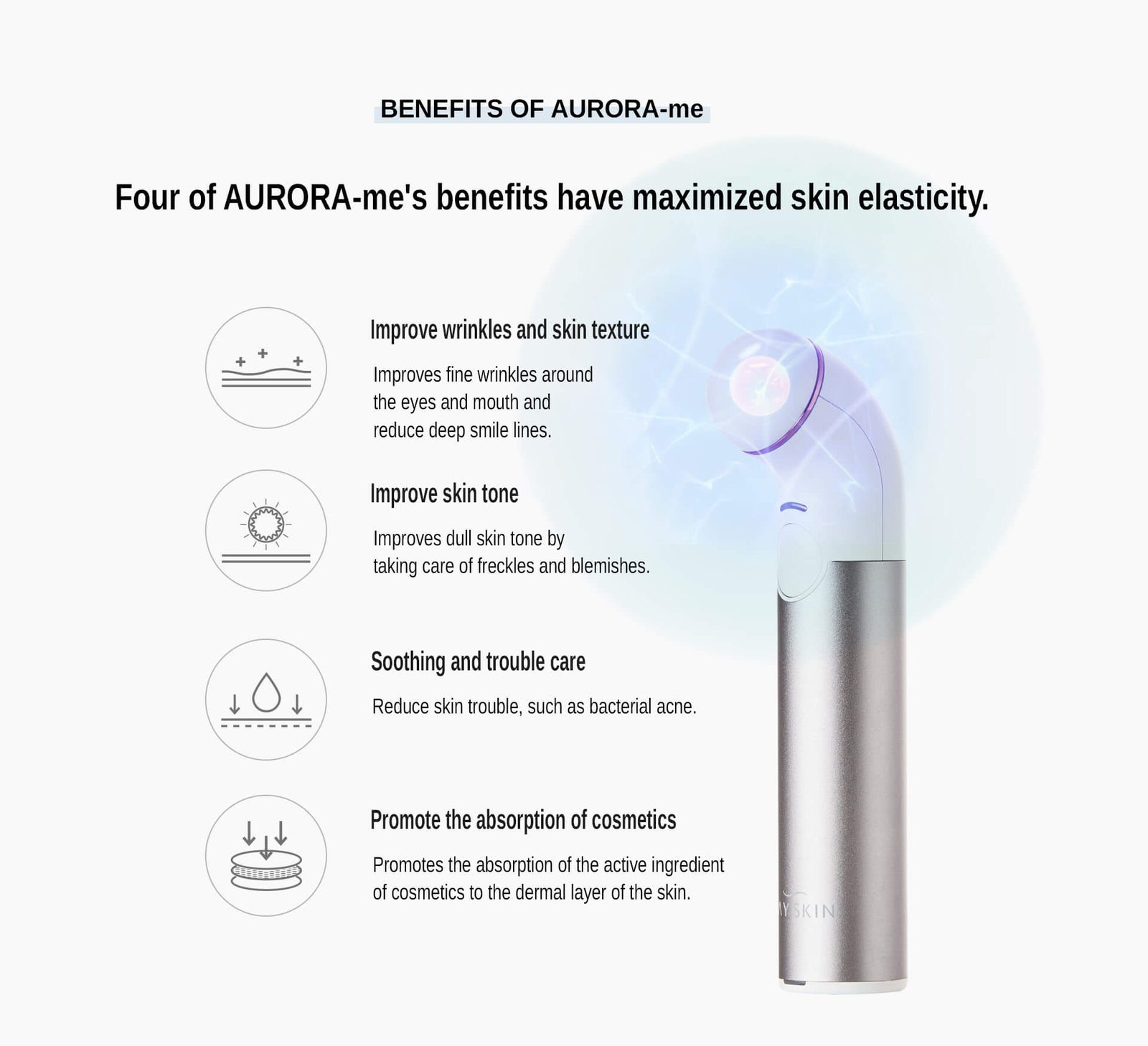 Check for changed skin conditions after using Aurora-me.
We have conducted a self-home test on people in their ages 30s to 50s.
Test Period: February 1st to March 14th, 2020 (6 weeks)
Test Subject: 10 female/male aged 30 to 50 years old
Test Products: Aurora-me and Sayskin Super Moisture Cream
Test Mothod: Apply 1 to 2ml of Sayskin Super Moisture Cream to their faces and use Aurora-me once a day for 10 minutes.
And the subjects took pictures of their faces using the camera mounted on their smartphone.
Comparison method: We have compared their facial photos before the test and ones after using the Aurora-me for six weeks.
Here are photos of several of the subjects who participated in the test:
Wrinkles slightly fade away and skin texture was little softer.
Skin tone has changed to clear and clean.

The skin trouble area has calmed down.
Changes in skin through absorption testing of cosmetic ingredients
Aurora-me carefully considered even the details for you.
ZIRCONIA ceramic materials were used.
Ergonomic design considering usability.
Bling-bling Head Rings with rose gold colored.
A soft textured matte aluminum material was used in order to optimize the grip feeling.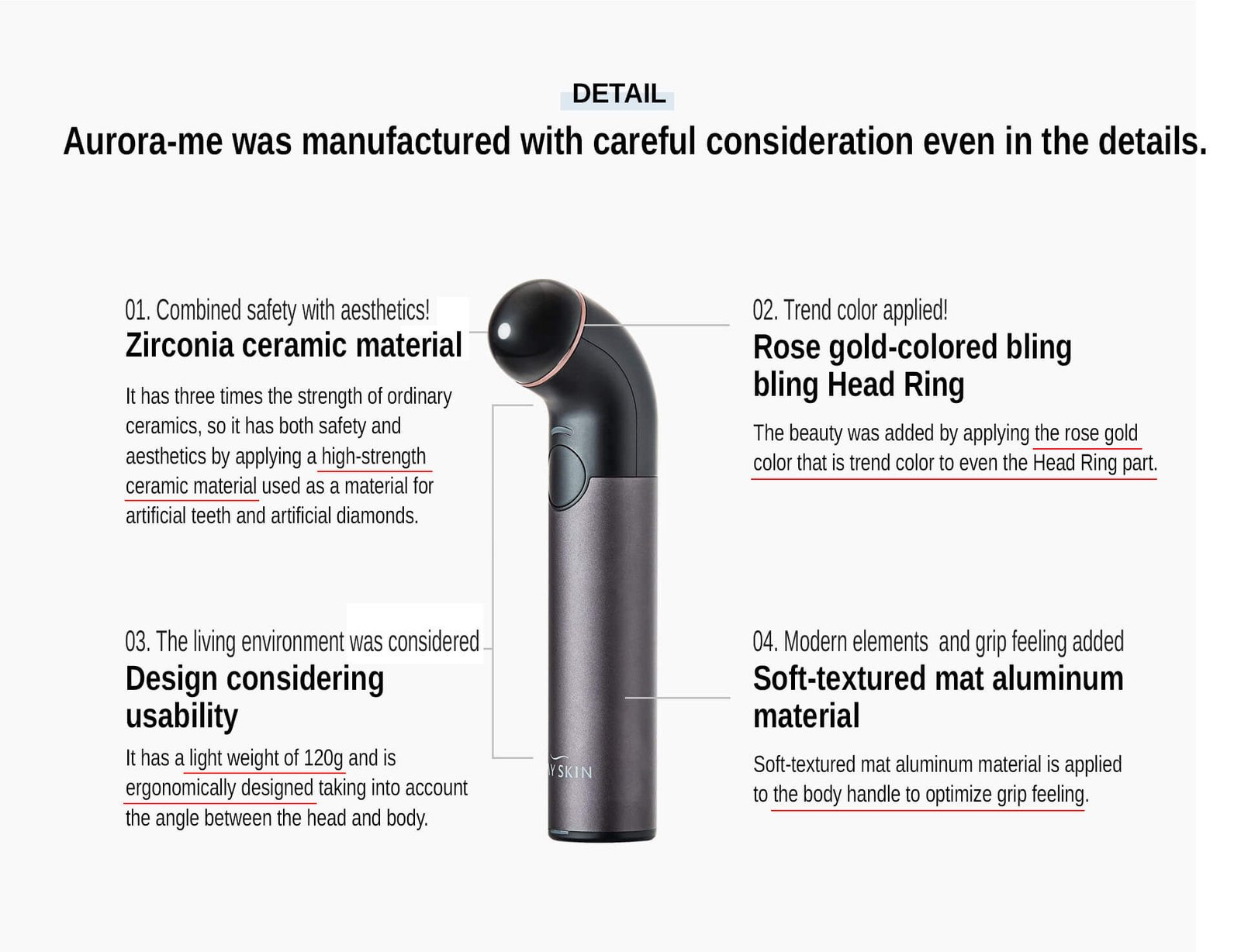 How to use
Basic skin care method
Method of intensive care by skin area
Product composition
Product specification