P.A BOOSTER AMPOULE for high pressure ampoule sprayer
High pressure ampoule sprayer Omega Injection for skin professionals, which improves the moisture level of the skin by spraying nano-thick ampoules at high pressure without damaging the skin.
This is one of the four ampoules of Omelon for skin professionals developed optimized for omega injection.
A special skin soothing solution focused on care for your skin problems.
P.A BOOSTER AMPOULE
It is an ampoule for skin professionals, which soothes the skin and intensive care for pores using containing patented pore ingredients and vegetable ingredients.
Main Features
The patented natural protector ingredients balances the skin ph and eliminates skin problems, making your skin a balanced skin.
Calming solution ingredient calms tired skin with external irritation and cares it with stable skin condition.
Centella Asiatica Extract and Camellia Sinensis Leaf Extract ingredients control excess sebum that looks oily and makes the skin fresh and smooth.
Dipotassium Glycyrrhizate and Beta-Glucan ingredients help to care for the pores firmly and deliver refreshing moisture to your skin.
Fantastic Omega Injection and Booster Ampoule Duo
Omega Injection's high injection pressure and ability to make ampoule solution very thin as nano-thick make the effective ingredients of the Booster ampoule absorb enough into the skin and maximize its effectiveness.
Micro Atomized Process System
Omelon's Omega Injection Mist Gun evenly sprays fine ampoule particles over the skin through a 0.3mm spray and delivers ampoule at high pressure to moisturize not only the skin surface but also the inside of the skin, allowing you to experience healthy glowing skin.
In addition, the Omega Injection maximizes the effectiveness of the active ingredients of the four types of the Omelon ampoules.
Patented Ingredients
Natural Protector: Fermented soybean, Willow, Portulaca Oleracea, Gold,  Cinnamomum Cassia, Chamaecyparis Obtusa, Origanum Vulgare
It helps to astringe pore, sooth skin and moisturize the skin.
Main ingredients
Special Calming solution: Althaea Rosea Flower, Bambusa Vulgaris, Chrysanthemum Morifolium Flower, Honey, Camellia Japonica
Camellia Sinensis Leaf Extract: It has the effect of suppressing skin sterilization and soothing, skin cancer and DNA damage, inhibiting the synthesis of melanin pigments, and soothing the skin.
Centella Asiatica Extract: It has the effect of regenerating the skin, soothing skin, the anti-inflammatory, strengthening skin elasticity and alleviating pigmentation.
Dipotassium Glycyrrhizate: It helps maintain moisturizing power by balancing the oil and moisture in the skin, strengthening anti-inflammatory effects and skin barriers, and making skin healthy.
Beta-Glucan: It moisturizes the skin deep into the skin and provides skin conditioning and moisturizing effects with powerful moisture filling components.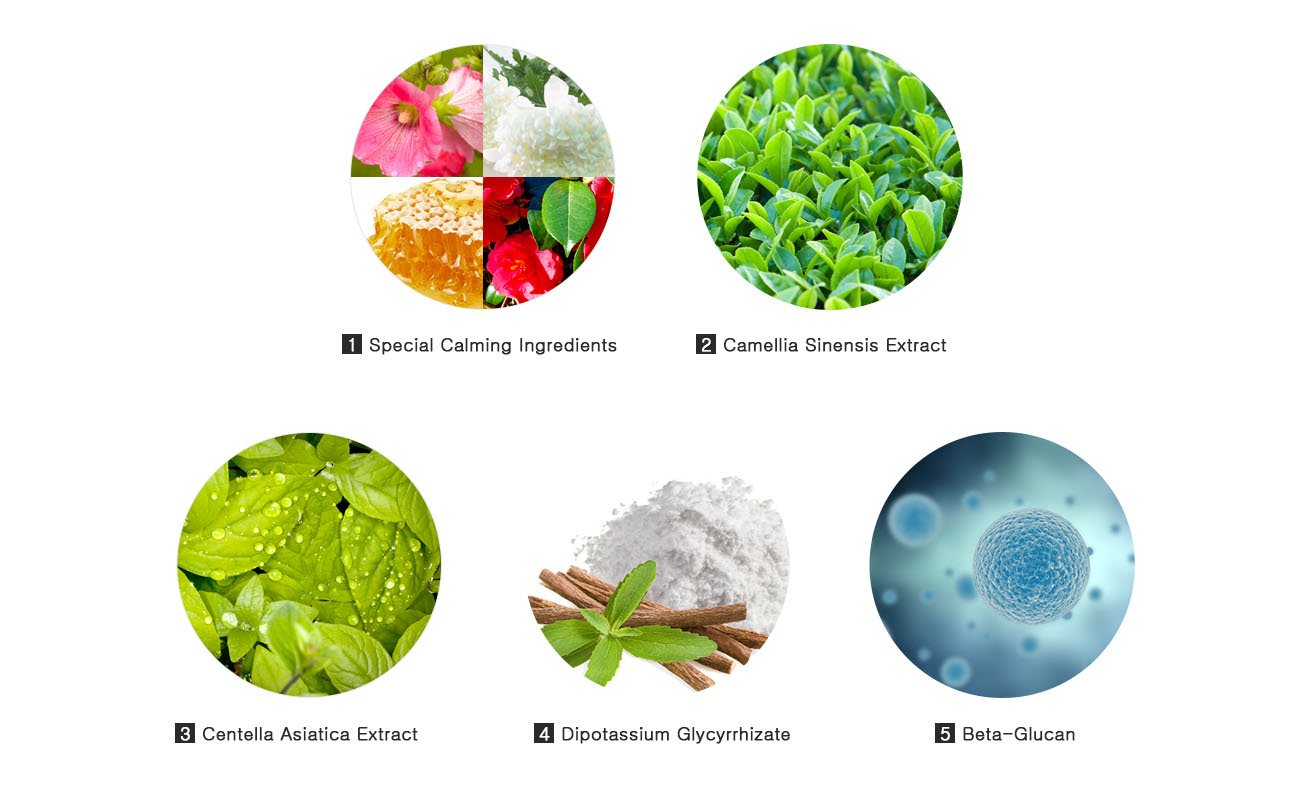 Formula
Light and transparent water type formulation