Air Cell is a handy, portable device that lets you radiate your face with pure oxygen at nanometre-sized particles. Equipped with an air cooling system, deliver the product at a cool temperature to increase the elasticity of your face.
The patented vial holder, allows you to accommodate vials of equal size or to use tonics, serums with which you can put in the included container included.
We recommend that you do not use high-density products that may obstruct the switch from the nozzle.
Micro Air can also be used on scalp and therefore hair, adding essences or unviscous products to the hair.
You can also use micro AIR's PRODUCTION SIERI:
there are 4 types of formulations:
1) Whitening
2) Anti-wrinkle anti-wrinkle
3) Hydrating moisturizer
4) Recovery repairer
HOW TO USE MICRO AIR:
1)Insert the ampoule, taking care to remove the lid from the vial first.
2)Rotate the micro air to its original position (apparently upside down) and push the ignition button. Press the button for a second and use micro air.
3)When you have finished using the device, rotate the device again and spray away the remaining residue inside.
4)Clean the device once a week. Below we explain how to clean it
CLEAN MICRO AIR:
Put the clean water in the component's cleaning container, and dispense until micro air stops emanating air.
Cleaning nozzles is recommended once a week.
IF MICRO AIR'S USCITA IS BLOCKED
1. Put the supplied support inside the nozzle
2. Insert the micro supplied needle gently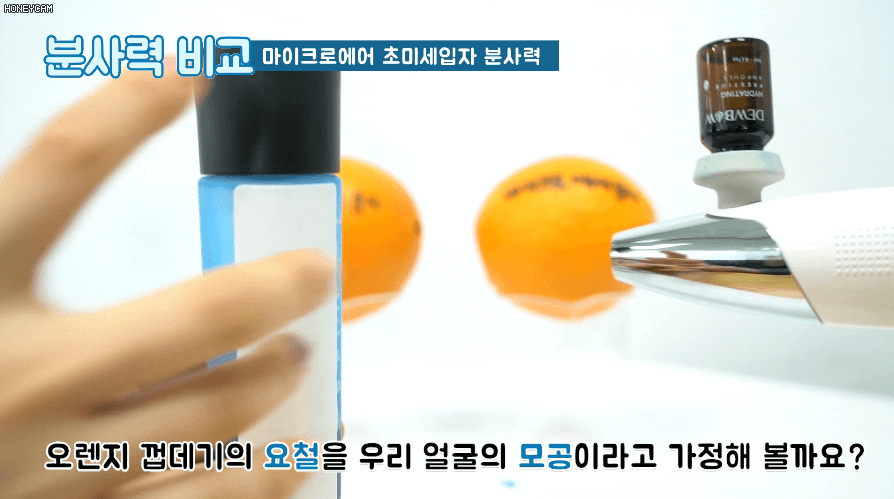 Patents and Safety Certifications