Do cosmetic doctor injections scare you? The new injectable device from the Fillmed lab may make you change your mind.
Don't worry, you're not alone in fearing the needle. This is why laboratories, offer ultra-soft injection systems, suitable for both beginners and for the treatment of sensitive areas, eye and lip contour.
What does the Nanosoft device look like?
It consists of three micro-needles of a length of 0.6 mm, which the doctor adapts to his usual syringe. Ultra-thin, the latter is not felt and leave no marks on the skin.
How's the session?
The doctor stings with the 45-degree tilted needle, smooths upwards and drops small drops of the product (the NCTF, a polyrevitalising solution known as "the" reference product in mesotherapy ), every 2 or 3 mm, very superficially below the surface of the Skin. Small papules (blisters, roughly) form instantly and act as "tanks" for all cells of the juvenile dermis, slowly infusing hyaluronic acid and all the necessary nutrients (vitamins, enzymes, antioxidants, amino acids, minerals) that are necessary to regenerate the skin.
The needle is disposable, it is changed after each patient.
What are the consequences of nano-injection?
We leave the office with a skin with a raised appearance, like a bubble ball but everything fades in 24 minutes. The skin of the injected area appears well flattened and smoothed.
Nanosoft Injection soon after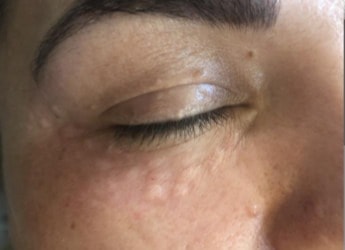 What areas can we use this "nano-needle"?
The eye contour to smooth the first wrinkles on the lower, upper and upper eye lid.
The upper lip fades a "barcode" (vertical lines) still slightly accentuated.
The neck and cleavage, to attenuate the subtle wrinkles.
What are the limits of Nanosoft?
It does not replace mesotherapy (which affects his entire face) or an injection of hyaluronic acid (which has a real power to fill wrinkles). It's just a more comfortable gesture, ideal for "first time" or for those who no longer want to startle.
Otherwise, as far as contraindications are concerned, they are products based on hyaluronic acid. Injection is also not recommended for those who have a small drainage problem in the lower eyelids, which manifests itself with swollen eyelids or pockets of malaria in the morning. This could increase the problem.
How many sessions do you need to run?
Three sessions after three weeks, followed by a maintenance session every 3-6 months, depending on the condition of the skin. The full treatment around the eyes, upper lip, neck and décolleté lasts 20 minutes.