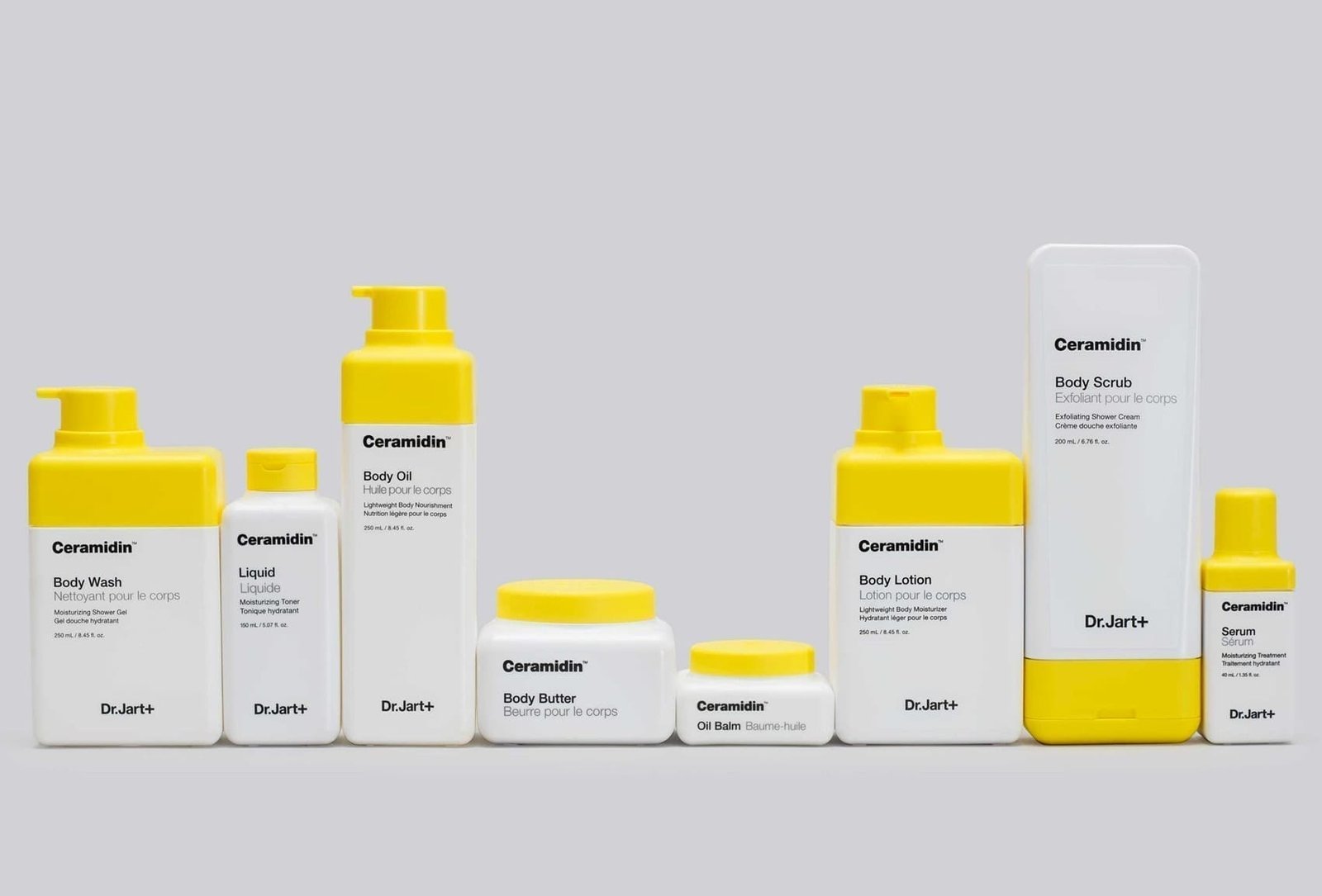 ---
How's your skin?
Weak or strong?
Ceramide is the main component of the human epidermal layer. The skin is healthy when the percentage of intercellular lipids made of ceramides is about 50.
A weak skin barrier tends to lose the moisture of the environment, causing dehydration and reactive and sensitive skin.
The line devised by Dr. Jart evokes healthy skin with a strong skin barrier protecting it from moisture loss, leaving the skin smooth and hydrated.
---
Ceramide body scrub.
---
Soft. Smooth.
A damp scrub that gently removes the old skin.
Goodbye matte, dry and cracked skin!
This type of scrub cream infused with 5-layer Multi Wax invigorates the skin thanks to the action of the natural fine micro-granules of walnut shells and apricot seeds, bringing your skin to a new level of softness.
OK for sensitive skin!
Tested and proven delicate and effective on sensitive skin.
---
Active ingredients:
+ 5-layer Ceramide
Professional care of your body by combining 5 optimized ceramidic complexes to increase the texture and nourishment of the skin.
+ This professional body exfoliator is enriched with the 3 natural scrubs (nutshells, apricot seeds and almond powder) gently exfoliate and smooth the skin even in rough areas
---
Why is it important to hydrate the body?
– The skin of the body is more prone to dryness 9 times more than the face.
This also means 9 times more exposure to outdoor environments and requires 9 times more protection.
– Less sebaceous glands
While facial skin types are divided into various different types, the skin of the body has fewer sebaceous glands than the face which makes it more prone to dryness.
Unique skin structure
Every inch of your body needs different treatment due to various skin thicknesses and different sebaceous glands.
The cellular structure of the body is generally denser than the face, which makes it more difficult to moisture to penetrate.
---
Use:
step 1
Squeeze an appropriate amount on the palm of your hand.
step 2
Use the product everywhere especially on rough and dry areas.
Step 3
Rinse profusely.
Tip:Apply the scrub and wait 1 minute before gently rubbing. Leave skin smoother and softer
---
---
Ingredients:
Purified Water, Glycerin, Cetyl Ethylhexanoate, Cetearyl Alcohol, Walnut Shell Powder, Apricot Seed Powder, Glyceryl Stearate, Pentaerythritol, Palmitic Acid, Ceramide Adipate, Ceramide Adipate, , Ceramide Aes *, Ceramide Iiopi *, Sweet Almond Seed Powder, Bergamot Fruit Oil, Sentient Geranium Flower Oil, Indian Mulberry Flower Extract, Indian Mulberry Leaf Extract, Turmeric Extract, Holy Basil Leaf Extract, Cacao Extract, Sage Oil, Ointment Oil, True Coral Horse Extract, Cetearyl Glucoside, Stearic Acid, Sorbitan Stearate, Hydroxyethylacrylate / Sodium Acryloyldimethyltaurate Copolymer, Caprylic Glycol, Ethylhexyl Glycerin, Myristic Acid, Dextrin, Arachidic Acid, Lauric Acid, Oleic Acid, Propanediol, Sodium Hyaluronate Dipropylene Glycol, Dipropylene Glycol, Hydrolyzed Diglycosaminoglycan, Hydrogenated Lecithin, Sodium Hyaluronate, Cetyl-Phygoushydroxyethylenepolyamide, Benzyl Glycol, Hydrolized Hyaluronic Acid, Cholesterol, Hyaluronic Acid, Raspberry Ketone, Carbomer, Disodium Di
---
---
---