C.A BOOSTER AMPOULE for high pressure ampoule sprayer
High pressure ampoule sprayer Omega Injection for skin professionals, which improves the moisture level of the skin by spraying nano-thick ampoules at high pressure without damaging the skin. This is one of the four ampoules of Omelon for skin professionals developed optimized for omega injection.
A special solution to make your skin healthy and elastic
C.A BOOSTER AMPOULE
It is an ampoule for skin professionals, which intensively care for skin elasticity and nutrition using containing patented skin elasticity & vegetable ingredients.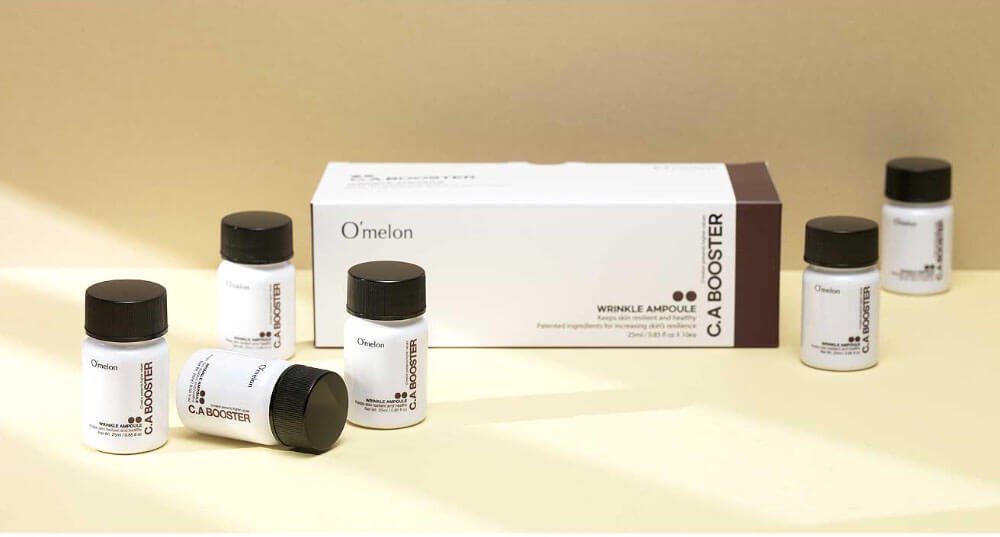 Main Features
Skin elasticity and wrinkle improvement
The patented ingredients ChoHyo Complex(C) and adenosine fill the inside skin densely, making it elastic and strong.
Supply energy  and strengthen skin barrier
Six kinds of peptide complex ingredients provide strong energy to the skin to help strengthen the skin barrier by developing the skin's natural power.
Hydrolyzed Collagen & Hydrolyzed Elastin ingredients moisturize and nourish dry & loose skin to help maintain conditioning.
Vegetable skin energy complex ingredients helps to smooth, elastic, and energetic skin texture.
Fantastic Omega Injection and Booster Ampoule Duo
Omega Injection's high injection pressure and ability to make ampoule solution very thin as nano-thick make the effective ingredients of the Booster ampoule absorb enough into the skin and maximize its effectiveness.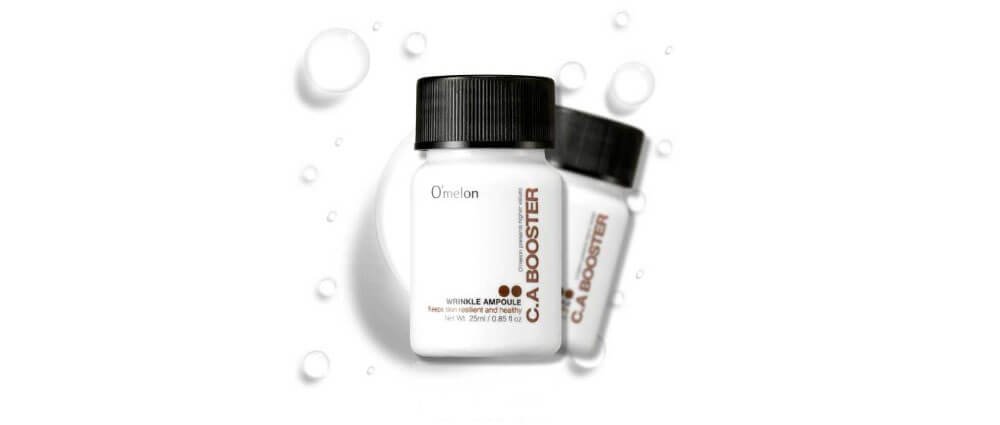 Micro Atomized Process System
Omelon's Omega Injection Mist Gun evenly sprays fine ampoule particles over the skin through a 0.3mm spray and delivers ampoule at high pressure to moisturize not only the skin surface but also the inside of the skin, allowing you to experience healthy glowing skin.
In addition, the Omega Injection maximizes the effectiveness of the active ingredients of the four types of the Omelon ampoules.
Patented Ingredients
Citrus Junos Fruit/Prunus Mume Fruit/Punica Granatum//Rice Ferment/Lactobacillus/Acetic Acid
They help skin elasticity, nourishment, and moisturization.
Main ingredients
Adenosine: It is used as a representative wrinkle improvement ingredient due to its effectiveness in regenerating skin cells, also has anti-inflammatory, wound healing effects as well as collagen synthesis promotion effects in the dermis.
Six different types of peptide complexes: Copper Tripeptide-1, Palmitoyl Pentapeptide-4, Tripeptide-1, Palmitoyl Pentapeptide-1, Hexapeptide-9, Hexapeptide-11
Hydrolyzed Collagen: It is a mixture of small peptides caused by hydrolysis of collagen, which reduces the dryness of the skin and restores elasticity, making dry or damaged skin lively.
Hydrolyzed Elastin: It is an excellent anti-aging ingredient that replenishes elastin in the dermis, one of the elastic proteins that has been reduced due to skin aging.
Skin Energy complexes:: Sanguisorba Officinalis Root, Centella Asiatica, Vaccinium Angustifolium (Blueberry), Phellinus Linteus,  Inonotus Obliquus (Mushroom)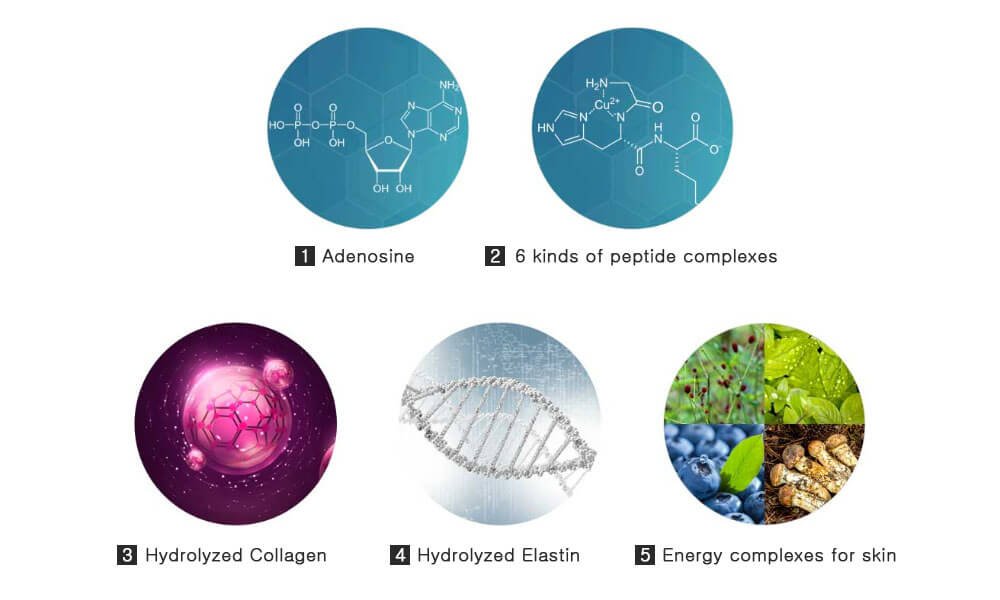 Formula
Light and transparent water type formulation