Vitalizing Rosemary Decoction Toner 300ml
An alcohol-free, slightly acidic toner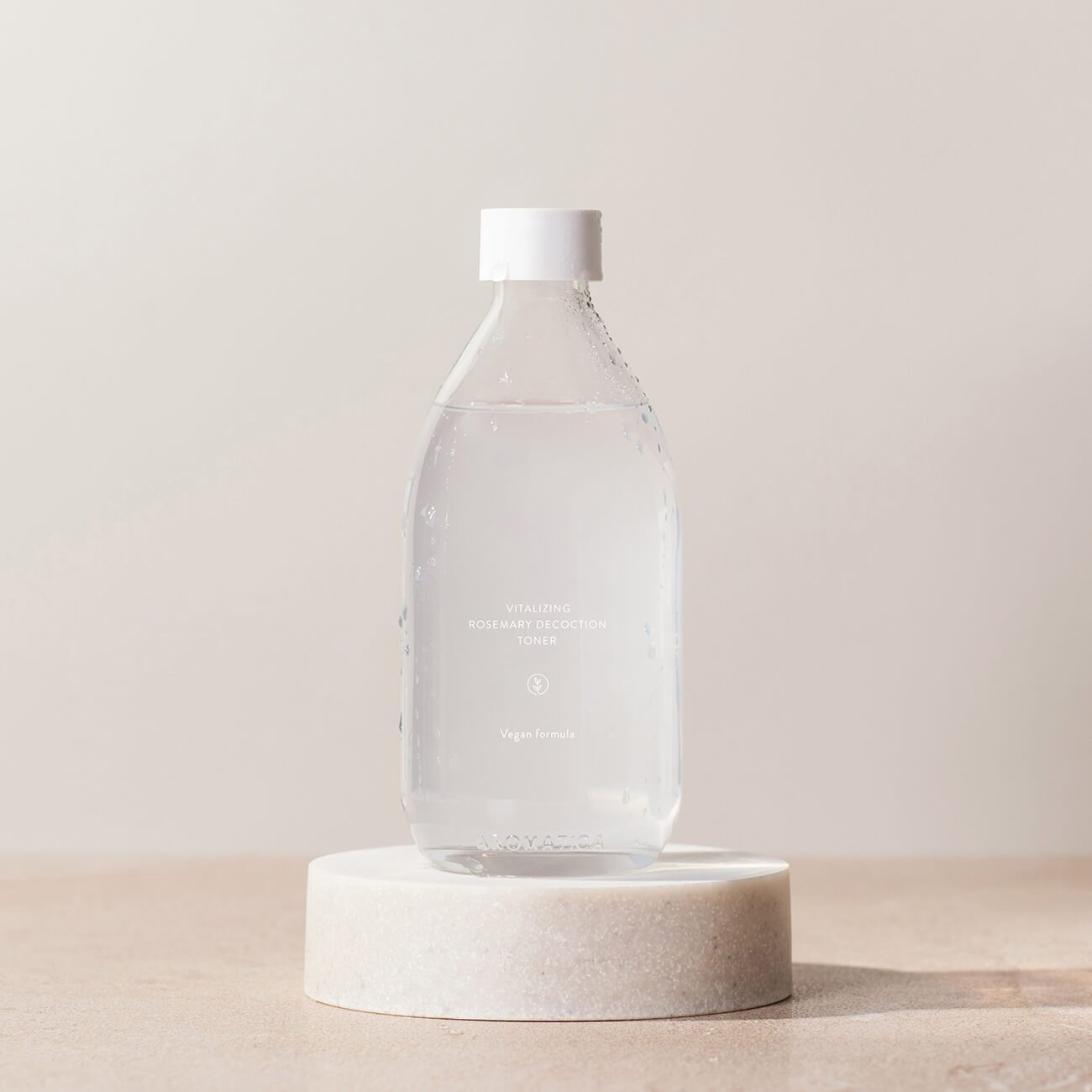 Daily moisturizing toner refreshes the exhausted skin and mind.
The vital energy of rosemary freshens your tired body and mind while moisturizing your skin.
Start your day energetically with the lively power of rosemary. Rosemary extract soothes irritated and sensitive skin, while enriched in organic Aloe Vera protects against moisture loss, powerful hydration.
The natural rosemary oil and rosemary leaf infused through a decoction extraction method replace purified water and leave your skin-replenishing, efficiently delivering the nutrients to the skin.
Gentle and hydrating toner is for all skins.
Using a toner is the first step in skincare, it preps the skin.
Our toner was tested safe with no irritations.
It replenishes with hydration to build healthy skin.
Korea Institute of Dermatological Sciences
August 23-September 23, 2019
33 subjects
Results: No irritation was observed 30 minutes, 24 hours, and 48 hours after the removal of Vitalizing Rosemary Decoction Toner
Capacity and Safety
300ml Net 10.1 fl. oz.
Vegan
Cruelty free
Silicone free
Extraction method
DECOCTION : A method of extraction by boiling herbs or medicinal plants in water over low heat for a long time to extract active ingredients. It is a physical method that has a long history and extracts active ingredients effectively from natural materials.
HOW TO USE
After washing the face, soak a cotton pad with an appropriate amount of the product and lightly spread the toner over your face and neck. Gently tap the face to absorb the remaining toner into the skin. If necessary, apply two or three layers for absorption for a solid moisturizing base.
Ingredients
Organic ingredients 10.5%, Natural ingredients 99.2%
Rosmarinus Officinalis Leaf Extract, Glycerin(Plant-derived moisturizer), Propanediol(Plant-derived moisturizer), Rosmarinus Officinalis Leaf Water, Ethylhexylglycerin(Emollient), Polyglyceryl-10 Laurate(Plant-derived emulsifier), Polyglyceryl-10 Myristate(Plant-derived emulsifier), Chamomilla Recutita Flower Extract, Verbena Officinalis Extract, 1)Aloe Barbadensis Leaf Extract, 2)Rosmarinus Officinalis Leaf Oil, Aqua, 2)Linalool(Ingredient in Rosewood oil), Maltodextrin(Polysaccharides moisturizer), 2)Aniba Rosodora Wood Oil
1)Organic raw material(s) 2)Naturally found in essential oil(s)