Vitalizing Rosemary Concentrated Essence 100ml
Rosemary Concentrated Essence, Made with a Single Ingredient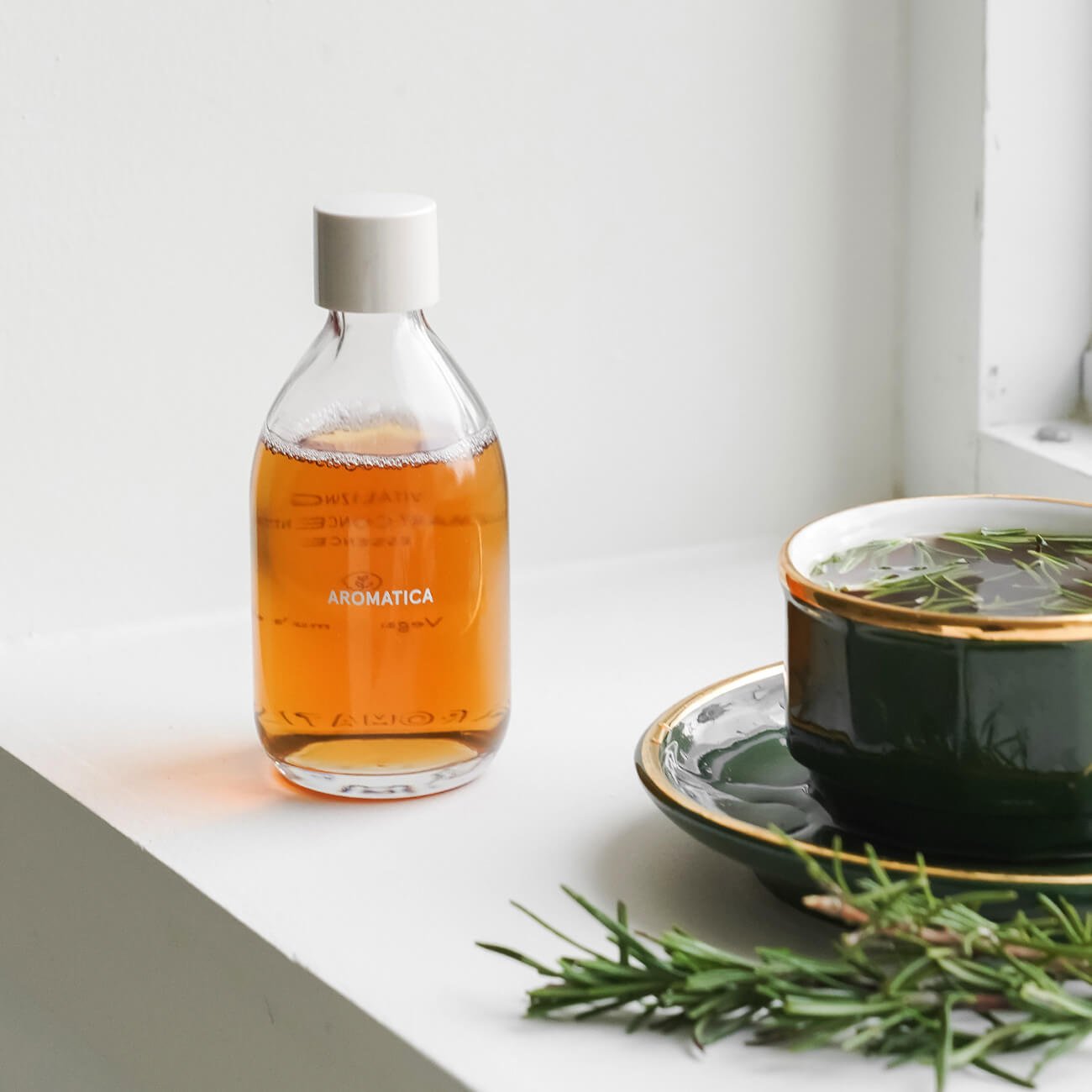 An Entirely New Level of Antioxidant Care meets our Rosemary Concentrated Essence which is filled with antioxidants.
It provides vitality and moisture starting at the skin base.
Focusing on Only a Single Ingredient! No unnecessary ingredients are added to ensure the deliverance of rosemary's natural antioxidant properties.
It boasts minimal skin irritation while making the skin both firm and radiant.
*Limited to characteristics of raw materials
AROMATICA's own Low-temperature Aging Extraction Method™ Carefully handpicked rosemary leaves were brewed through the Low-temperature Aging Extraction Method™ for 48 hours with natural solvents of water and glycerin.
Therefore, the active ingredients of rosemary can be experienced to the fullest.
A complete moisturizing layer that is as light as water and as moist as a cream! A moisturizing film is created from the bottom-most layers of the skin to the top.
Three light yet moist layers of complete moisturizing care.
Capacity and Safety
100ml Net 3.4 fl. oz.
Vegan
Cruelty free
Extraction method
SOLVENT EXTRACTION : A method of extraction designed to efficiently extract beneficial active ingredients from exquisite and delicate original materials.
The high-quality essential oil extracted from the safest moisturizer and skin conditioner such as glycerin preserves the natural fragrance of the original materials with recycled energy usage.
HOW TO USE
After cleansing the face in the morning and evening, gently pat onto face using your palms to encourage absorption. Reapply a few times or soak cotton pads and use as face sheet masks, if desired.
Ingredients
Natural ingredients 83.9%
Rosmarinus officinalis leaf extract(Infusion), Dipropylene glycol(Moisturizer), Glycerin(Plant-derived moisturizer), 1,2-Hexanediol(Emollient), Ethylhexylglycerin(Emollient)